Whitley County's support dog helping probationers through their journey
Read the original article source of this excerpt.
The Post and Mail on 10/3/2022 by Rachael Hartman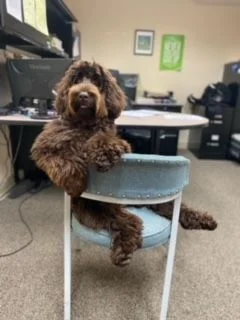 COLUMBIA CITY — For those who have to go through it, the court system can be one of the most stressful times of their lives, but there is a new member of the Whitley County team that is making it a little easier.
Journey is making a name for herself as a friendly face to staff, probationers and others each day. She is an Australian Labradoodle, and her job is to be a support dog for Whitley County.
Her focus is supporting those who come to court, the victims and for those who take part in probation and work release.
"If they don't want to be here and they are stressed out, she can sense that and be there for them," said Amy Motter, probation officer.
Motter was first introduced to the idea of a support dog after attending a conference in French Lick last September. There she met Brody, the support dog for Posey County.
"It was the first I heard of it," said Motter. Soon after she sat with the chief and found out how Brody was used for Posey County. "I saw how it could work in Whitley County."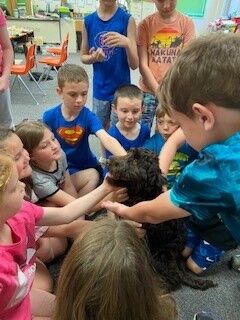 Motter returned home, started doing some research and the work to bring a support dog to Whitley County began.
That work was in partnership with Community Corrections, and discussions began on what specific duties needed to be met for the county.
It led the team to a search on where to find the right dog. They landed on Colonial Village Labradoodles, located in Sheridan, which was also the same place used by Posey County. There, they not only breed the dogs, but complete the training for them. Having this covered was an important consideration, Motter noted.
"We knew her story and where she came from, and she had to be compatible for everyone and hypoallergenic," Motter said.
Colonial Village selected Journey, and at eight weeks-old they moved her into their training program. Part of that included a temperament test, seeing how she would react to a number of things including simple commands, evaluating her uplifting nature and more.
"They picked out the dog they thought would be best," said Motter.
Gaining county support took a few steps. It started with getting the judge's approval, then taking the request to the advisory board. From there the request was sent to the Whitley County Commissioners.
A big consideration, as with most things, was cost. The prosecutor's office offered to pay a third of the cost, another third would be covered by probation user fees and grants were sought out to cover the remaining costs.
The search was supported by the Community Foundation of Whitley County. In a heartwarming story shared by Motter, the grant application was due by Dec. 1 of last year. The day before the grant request was submitted, a couple came to the Community Foundation to set up a fund specifically for therapy dogs. The Community Foundation contacted the couple to share what the county was working on, who then wrote another check to support them.
"It was meant to be," Motter said with a smile.