Founder's Award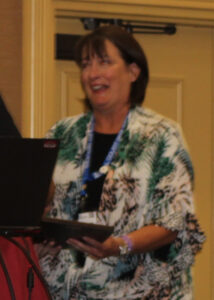 The Founder's Award is a way of recognizing individuals who have significantly contributed to the field of probation in general, and specifically to the POPAI organization. The recipient need not be a Probation Officer or POPAI member. The selected person, however, shall be characterized by his/her commitment of influence and promotion of professionalism to Indiana probation. Previous award winners include Tom Frederick, George Walker, Bruce C. Embrey, Charles Bud Meeks, Linda Parks, Greg Werich, Eric Zimmermann, Jane Seigel, Neil Hannon, Susan Rice, Glenna Shelby, and 2018's Winner: Judge Vicki Carmichael.
The 2021 Founder's Award Winner is Susan Allen from Monroe County Circuit Court. Susan's staff added "We, the probation officers of the Monroe Circuit Court, could write all day on her accomplishments professionally and personally. We feel that she demonstrates the best qualities of a probation officer on a daily basis by tirelessly helping probationers find their own path to success. She also gives the probation staff the same high level of attention and assistance." read more about Susan
Learn More about the Founder's Award
Donald "Charley" Knepple Scholarship
The Probation Officers Professional Association of Indiana provides a scholarship in memory of Donald "Charley" Knepple. Charley lost his life on April 28, 1997, while performing his probation officer duties in Allen County, Indiana. In an effort to honor an outstanding professional and to promote further professionalism, POPAI selected a scholarship that would encourage continued education and advanced degrees for probation in Indiana.
Learn More
2022 Knepple Scholarship Winner: Brandi Glenn

This year's recipient is Brandi Glenn, Chief Probation Officer of the Perry County Circuit Court Probation Department. Brandi has been a probation officer and a member of POPAI for approximately nine years. Brandi is pursuing a Master of Social Work Degree from Indiana Wesleyan University and is currently maintaining a 3.8 GPA.
Brandi stated "A master's degree in social work will allow me to expand my knowledge and skills in the rehabilitation of clients. Because of the critical life events that have taken place in my life, this degree has helped me take those events and make me into an authentic leader. Some of those life events include trauma as a child, substance abuse in my family, and loss. All things that our clients face. It allows me to serve the community based on my own experiences to help guide them to a more successful life. It gives me a better perspective on assisting them to change the struggles in their life into positive attributes. Showing clients empathy and compassion and looking at them from a social worker's standpoint instead of just a criminal perspective can be the key to connecting with that client and getting them to see their worth."
"Rookie" Probation Officer of the Year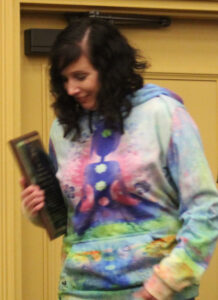 The "Rookie" Probation Officer of the Year Award was established to recognize probation officers who, while at the beginning of their career, show the attitude, aptitude, and the desire to improve themselves and to develop into leaders among their peers. Nominees shall be within their first two (2) years of certification as a probation officer in the state of Indiana.
The 2021 Rookie Probation Officer of the Year is Valerie Runyon from Wells County Probation. Probation Officer Vicki Cale states "I have over 30 years of experience as a probation officer but I often staff cases with Valerie because of the knowledge she has in addressing substance abuse. The Wells County Probation Department is very fortunate to have Valerie as an employee."
Learn More about The "Rookie" Probation Officer of the Year Award
Line Probation Officer of the Year
The Line Probation Officer of the Year Award was established to recognize line probation officers who have performed their duties in an outstanding manner and/or made significant contributions to the field of probation at the local, regional or national level. The recipient may also have brought credit or honor to the profession of probation through participation or involvement in community activities or programs. This recognition will be awarded to probation officers who are involved in the direct supervision of criminal defendants/juvenile offenders and/or other line probation officer duties such as conducting Presentence Investigations, Preliminary Inquiries, and Predispositional Investigations.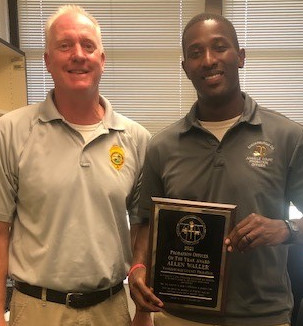 Allen Waller, a probation officer with Vanderburgh Juvenile Probation, was presented the "2021 Line Probation Officer of the Year Award." M. Rebecca Helm, Disposition Supervisor, states "Allen always has a smile on his face and a positive attitude in regards to his job. Allen never complains about the cases he is assigned and is always willing to help his co-workers and probationers. Allen truly cares about his probationers and their families and it shows by his dedication and commitment to his job."