Vigo County Courts Engage Participants in an Unlikely Way
Read the original article source of this excerpt.
Indiana Court Tiimes on 11/5/2021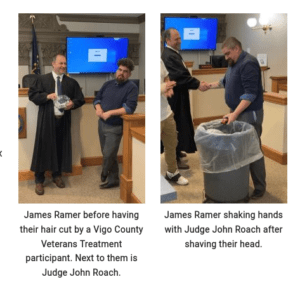 The COVID-19 pandemic strained problem-solving courts' ability to ensure access to effective treatment and encourage connection and purpose. Vigo County Veterans Treatment Court coordinator James Ramer wanted to motivate participants to remain engaged, connected, and motivated. He challenged participants to remain sanction free for six months with the reward of seeing him shave his head.
The challenge turned out to be a success. Participants accomplished remarkable things under the strain of adjusting to life during a pandemic, with the added difficulty of addressing their mental health and/or substance use disorders. After four months, James decided it was finally time and invited a randomly selected participant to be the one to wield the clippers.
The winner did such a good job, Vigo Superior Court Judge John Roach awarded the participant 10 hours of "give back service" that month. Ramer is currently in the process of creating new challenges to keep participants engaged.