Synthetic drugs pose challenges for parents, schools
by Summer Ballentine 10:09 p.m. EDT August 10, 2014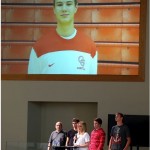 Sam Motsay's place as forward on the Center Grove junior varsity basketball team was on the line.
Friends say he wanted to dip into the world of LSD, a drug of 1970s fame that users say bathes reality in a rainbow of colorful hallucinations.
But Motsay didn't want to jeopardize getting caught or worse — getting kicked off his team. Like every student athlete, new driver, or prom-goer at his school, he faced the possibility of a drug test each day.
Police say the 16-year-old sophomore took the chance anyway one night in May and was found dead hours later next to blotter paper soaked with a synthetic drug called "N-Bomb," often marketed as LSD.
Motsay's death underscores the dangers of widely unknown, hard-to-detect manufactured drugs that experts say students, parents, schools and law enforcement need to learn about as a new school year begins.