Susan Bentley Graduates from APPA Leadership Institute
APPA on 03/16/2023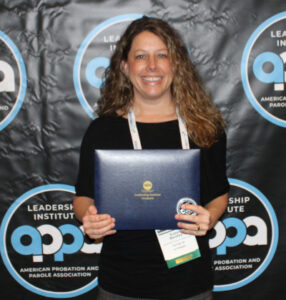 Susan Bentley, Chief Probation Officer for the Hendricks County Probation Department, recently graduated from the American Probation and Parole Association's Leadership Institute during the 2023 APPA Regional Institute in Los Angeles, California. Susan was a member of the 8th class of individuals to complete the LI program which began in 2010.
The Leadership Institute is a 12 month journey which takes a select group of management level staff through a series of three training institutes. Participants arrive early for each institute and participate in two days of intensive, administrative specific training provided by experts in the fields of leadership, management, and the criminal legal system. Participants are also required to complete monthly assignments and a final project designed to benefit their agency.
Susan began her career in probation in 2003 in Marion County and was named the Chief Probation Officer in Hendricks County in 2016. She currently serves as the Vice-President of the Probation Officers Professional Association of Indiana.
The next class of the Leadership Institute will begin in August of 2023 during the APPA Summer Institute in New York City. Watch the APPA website at www.appa-net.org for more details.
Congratulations Susan!