Rush stresses 'customer service' during 2019 State of the Judiciary
Read the original article source of this excerpt.
The Indiana Lawyer on 1/23/2019 by Katie Stancombe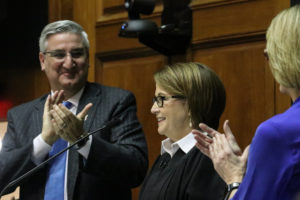 With applause amplified from all corners of the Indiana General Assembly's House Chamber, the leader of Indiana's judiciary declared the state's judiciary is "sound, steady and strong" in 2019.
Indiana Chief Justice Loretta Rush shared the highlights of the judiciary's work in 2018 while looking toward the year ahead during the 2019 State of the Judiciary address Jan. 16. The chief justice presented to a joint session of the Indiana General Assembly and more than 75 judges from across the state.
With a theme of "Addressing the Needs of our Customers," the judiciary plans to emphasize quality customer service to court users in 2019, she said.
Video and full text available here.