Role of Human Services During Community Supervision
Read the original article source of this excerpt.
National Institute of Justice on 09/27/2021 by Cecelia Klingele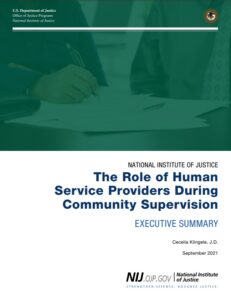 One of every 58 American adults is currently under some form of community correctional supervision. People placed on community supervision often have significant human service needs, some of which are addressed through correctional agency resources, but most of which are met, if at all, through community-based human service agencies.
People on community supervision connect to human service agencies through a variety of channels. Sometimes they are court-ordered to engage with treatment programs, obtain employment, or pay child support as a condition of supervision. In these cases, failure to cooperate with human service agencies can result in revocation of community supervision and incarceration in jails or prisons. In addition, probation or parole officers frequently refer people on supervision to human service agencies for additional assistance with meeting basic human needs, including housing, food, and child care. Finally, many people on probation and parole engage (voluntarily and involuntarily) with human service agencies, including child welfare departments and local community health providers, without the knowledge or involvement of community corrections agencies. In most cases, there is typically little or no coordination between these multiple service providers — a fact that can lead to conflicting, duplicative, and inefficient service delivery.
This paper summarizes what is known about the human service needs of people on supervision, and catalogs the ways in which various forms of community supervision can operate to either facilitate or impede the meaningful delivery of programs, treatment, and other services to people on probation, parole, and pretrial release. Finally, this paper proposes three key targets for improving the efficient and effective delivery of human services to people on community supervision:
Streamlining access to human services upon entry to pretrial or probation supervision, and before release to parole.
Creating mechanisms at the local and state levels to ensure continuity of high-priority services for those entering from or exiting to correctional settings.
Collaborating with clients, community corrections agencies, and human service providers to improve consistency in human service and correctional system expectations for service recipients.