Remembering Chief Probation Officer Lucile M. Myers EOW March 21, 1926
Read the original article source of this excerpt.
Officer Down Memorial Page
Lake County Juvenile Probation Department, Indiana
End of Watch Sunday, March 21, 1926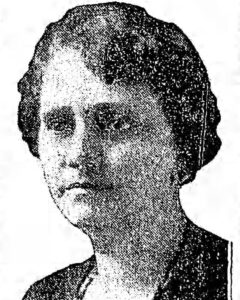 Chief Probation Officer Lucile Myers was shot and killed while investigating a child welfare case at a home at 417 17th Street, near the intersection of Calumet Avenue and 17th Street (modern day 170th Street).
Chief Myers had received a complaint that nine children were living in deplorable conditions and being forced to work by their father, who was exhibiting signs of mental illness. She was permitted into the house by one of the teenage children and began speaking to them of their condition. During the questioning the father entered the room and demanded that he be the only one to answer questions.
When Chief Myers continued to ask the children questions the father pulled out a revolver and shot her in the head as she sat in a chair. The man then fled from the house. It is not known if he was ever captured.
Chief Myers' teenage son had accompanied her to the home and was waiting in their vehicle when the shooting occurred. When he saw the father running from the home with the revolver he went into the home and discovered his mother. He drove her to a local hospital where she was placed in a room next to her killer's wife, who had just given birth to their tenth child. Chief Myers died approximately 20 minutes later.
Chief Myers had served with the Lake County Juvenile Probation Department for five years. She was a widow and was survived by several children. She is buried at Ridgelawn Cemetery in Gary, Indiana.