Probation chief speaks out on violator numbers at Allen County Jail
Read the original article source of this excerpt.
wane.com on 04/20/2022 by Jamie Duffy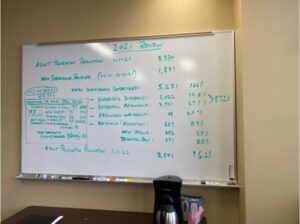 In his 36 years at Allen County Probation, Eric Zimmerman, chief probation officer, has seen the department grow from eight probation officers to 29 with a desire to change offenders' lives for the better.
"People get the idea that we wait with bated breath for somebody to violate and we say aha!," Zimmerman said, during an interview on Wednesday with WANE 15.
That's not the reality, Zimmerman says.
The county has been going towards a more interventional mode by providing treatment for substance abuse and alcohol abusers, counseling, and facilities to work through problems. These facilities include the Redemption House for women, Choices for men, the Residential Services Center through Allen County Community Corrections, and Park Center.
"There are some people not taking their probation seriously and might be on their path to revictimization that requires intervention. That's when we file a violation," Zimmerman said.