POPAI Presents Line PO of the Year Award to Dave Williams
on 09/04/2014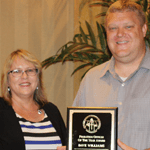 POPAI proudly announces that the inaugural Line Probation Officer of the Year award was presented to Dave Williams of Hamilton County.
Dave started as a PO with Hamilton County in October 1997.  He supervised offenders and wrote Presentence Investigation Reports.
The letters of support sent on Dave's behalf for this award state that Dave was outstanding in his probation officer duties.
In 2011, Hamilton County began using the Odyssey Probation Supervision system.  Dave worked closely with the Judicial Technology and Automation Committee (JTAC) to improve the functionality and capability of the Odyssey Supervision system.   Dave's improvements to Odyssey has allowed the department to do research to determine if their correctional practices are reducing recidivism.
Dave has automated every adult and juvenile document used by the department.  He was instrumental in creating a "virtual library," a place where all probation officers have easy and immediate access to all probation resources.
Dave was nominated for this award by his entire department and all of the local judges.  POPAI also received letters of support for his nomination from Chief Probation Officers around the state who expressed gratitude for Dave's help with deploying the Odyssey Supervision system in their counties.
Congratulations to Dave for his selection as Line Probation Officer of the Year.