POPAI Founder's Award presented to Joe Hooker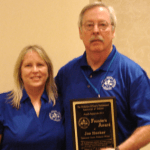 At the POPAI Fall Conference in French Lick, the 2015 Founder's Award was presented to Joe Hooker of Tippecanoe County Probation.
The POPAI Founder's Award recognizes individuals who have significantly contributed to the field of probation in general and specifically to the POPAI organization and who are characterized by their commitment of influence and promotion of professionalism to Indiana probation.
Joe started his career in probation as a probation officer in 1978.  He has been involved with POPAI from the beginning of the organization.  He has served as the District 6 Representative on several occasions, advocating for probation officers in Indiana.
After 32 years of service, in 2011, Joe received the prestigious Order of Augustus Award, a well-deserved recognition.
According to Dave Hullinger, Joe's chief probation officer:  "There have been many amazing changes to the Tippecanoe County Probation Department over the years.  Probation caseloads have grown from the twenty (20) to 150 +clients per officer.  Since January of 1978, Joe has been our one constant in the ever changing world of probation.  His commitment to clients, the community, and his fellow co-workers is evident every day.  In 1988, he worked with others to establish Tippecanoe County Community Corrections.  He has been a volunteer board member with the local SURF Center (a not-for-profit agency that provides 12-step programming for those in need).  I am fortunate to be able to call Joe a co-worker and a friend.  He is a kind soul with a 'true north' moral compass."
Joe's leadership has been an asset to probation in Indiana.  He has also been a champion advocating for increased state-level resources for probation officers.
Congratulations to Joe Hooker for receiving the 2015 Founder's Award!