Parole officer by day, author by night: book series based on life of a Haywood [North Carolina] probation officer
Read the original article source of this excerpt.
The Mountaineer on 7/6/2023 by Aarik Long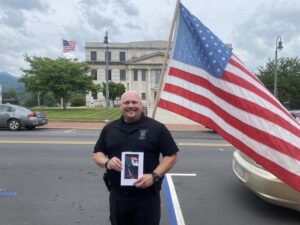 After releasing his first book, "Russian Red Rock," last year, Haywood County Probation and Parole Officer Jimmy Branch has finished a second book titled "Trouble."
Branch's main character in the series is none other than a Haywood County parole officer. And like the famous opening line of Dragnet — "only the names have been changed to protect the innocent" — the escapades of the parole officer are based loosely on real events.
His first book followed the story of fictional probation officer Jody Bartlett's battle with the Russian mafia in Haywood County.
In the newest book, Bartlett is facing a trio of gang members in Haywood County looking to get their own share of the drug market. The three end up putting a hit out on Bartlett, something that Branch said is based on his own experiences.
The two stories are unrelated aside from the fictional Bartlett being the protagonist and both being based on true experiences Branch lived through.
The stories do change the names of individuals involved, as well as some department names, but follows the tracks of things that Branch has lived. Branch said that he has grown to enjoy his writing, especially because he gets to tell his own tales.
"I've really grown to like it," Branch said. "Everything is based on true events that have happened, or that I've experienced in one way or another, but I've changed the names. It's things that have actually happened here in Haywood County."