Knepple Scholarship Awarded
by Linda Brady
POPAI President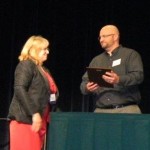 The Probation Officers Professional Association of Indiana (POPAI) provides a scholarship in memory of probation officer Donald "Charley" Knepple. Charley lost his life on April 28, 1997, while performing his probation officer duties in Allen County, Indiana. In an effort to honor an outstanding professional and to promote further professionalism, POPAI selected a scholarship that would encourage continued education and advanced degrees for probation officers in our state. 

At this year's Probation Officers Annual Meeting, POPAI presented the scholarship to Ryan Hull of Noble County. Ryan has served as a probation officer for six years. He is presently studying Public Affairs at Indiana University-Purdue University Fort Wayne. Ryan states that he will be using his degree to pursue the goal of becoming a Chief Probation Officer in Indiana. In the letters of support, Ryan's Chief Probation Officer Stacy Beam stated that Ryan has a passion to help define the future of probation in our state. Assistant Chief Probation Officer Danyel Wagner stated: "Ryan has dedicated himself to bettering not only the lives of those he supervises, but also the probation profession as a whole." 

Congratulations to Ryan.