Indiana Criminal Justice Association Awards
Read the original article source of this excerpt.
The Michigan City News-Dispatch on October 8, 2016 by Richard Chambers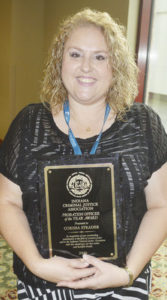 Corissa Strader
MICHIGAN CITY — In addition to the already-announced award to Detective Marty Corley as Officer of the Year, the Indiana Criminal Justice Association gave two surprise awards to people from La Porte County on Wednesday.
The association gave these and others awards to criminal justice professionals from across Indiana at its 83rd annual conference at Blue Chip Casino.
Greta Friedman, judge of La Porte County Superior Court 4 and part of the Problem Solving Court team, was awarded Judge of the Year.
Corissa Strader, coordinator of the La Porte County Problem Solving Court, was awarded Probation Officer of the Year.