'I was a monster': Fixing minds and changing lives in Marion County's mental health court
Read the original article source of this excerpt.
WRTV on 4/29/2021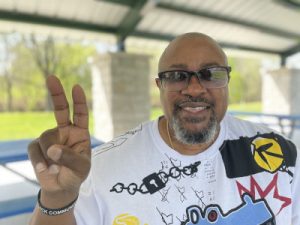 INDIANAPOLIS — George Lewis was drinking a lot of gin. He was trying to numb the pain, to kill the dark thoughts.
Friends and family were distancing themselves. He couldn't keep a job. He was on the verge of homelessness.
Lewis, 59, was out of control, raging. He didn't know at the time that he was suffering from bipolar disorder, which had been causing his extreme emotional highs and lows.
He didn't know he was sick. What he thought, he said, was people were out to get him. Cops took him to Eskenazi Hospital in October 2019. There, he hit a deputy working hospital security.
Lewis was charged with felony battery on a public safety official. He spent a few nights in jail before ending up in court.
That criminal case, Lewis said, opened his eyes, fixed his mind and changed his life.