Harris County judges unveil drastic new plan for releasing defendants on no-cash bail
Read the original article source of this excerpt.
Houston Chronicle on 01/18/2019 by Gabrielle Banks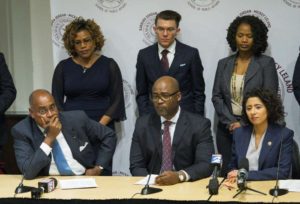 The new slate of Democratic judges have approved comprehensive revisions to Harris County's bail system that could clear the way for thousands of people, regardless of income, to avoid spending time in jail while awaiting trial on minor offenses.
The county judges plan to present their new court protocol to a federal judge, in a joint request with the sheriff, the county and poor defendants, in a historic class action over bail practices, asking that she implement the revised system as a foundation for a settlement.
The civil rights lawsuit accused the county of holding indigent clients in jail for days because they couldn't afford costly bonds.
Under the new administrative rule, 85 percent of people arrested on misdemeanors automatically qualify for release on no-cash bonds, according to the county's pretrial services division. People arrested for bond violations, repeat drunken driving and family violence are the only exceptions. These defendants must appear before a magistrate or judge within 48 hours, at which time they may also qualify for personal recognizance bonds.
"What it means is that no one will be in jail because they cannot afford to get out," said Court at Law Judge Darrell Jordan, the presiding judge, who has been on the bench since 2017. "This is a history making moment for civil rights not only in Harris County but for the U.S., because as the third-largest county in America, which is larger than 26 states, what we do here will be watched by all and can be emulated or replicated by all."