Going straight – Some offenders trade jail time for skills through Ripley County's Community Corrections initiative
Read the original article source of this excerpt.
The Herald-Tribune on 07/01/2019 by Debbie Blank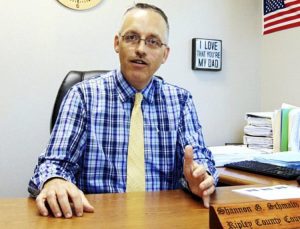 VERSAILLES – After Ripley County Circuit Court Judge Ryan King and Superior Court Judge Jeffrey Sharp took their offices in 2015, they successfully pursued a Community Corrections grant from the Indiana Department of Correction. The focus was to come up with alternatives to prison to lessen overcrowding.
At the same time, Ripley County Court Services was officially established. Instead of offices scattered in separate locations, now there's one entry point at the Versailles courthouse for community supervision – adult and juvenile probation plus Community Corrections.
Through various programs, the judges want offenders "to do something different than what they were doing before," explains Court Services director Shannon Schmaltz. "We want to do the most with the worst. We are trained to do an assessment and identify those who have the highest risk of re-offending. Our job is to reduce the recidivism rate in Ripley County."