Fentanyl mixed with cocaine or meth is driving the '4th wave' of the overdose crisis
Read the original article source of this excerpt.
NPR on 9/14/2023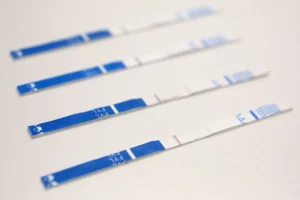 The mixture of stimulants like cocaine and meth with highly potent synthetic opioids is a fast-growing driver of fatal overdoses in the U.S.
Since 2010, overdoses involving both stimulants and fentanyl have increased 50-fold, and now account for 32% of U.S. overdoses in 2021 and nearly 35,000 deaths, according to a study published Thursday in the scientific journal Addiction.
"We're now seeing that the use of fentanyl together with stimulants is rapidly becoming the dominant force in the U.S. overdose crisis," says Joseph Friedman, the lead author of the study and a researcher at UCLA's David Geffen School of Medicine. "Fentanyl has ushered in a polysubstance overdose crisis, meaning that people are mixing fentanyl with other drugs, like stimulants, but also countless other synthetic substances."