Donald "Charley" Knepple Scholarship Award Winner: Rachael A. Scott
Each year, POPAI provides a scholarship in memory of probation officer Donald "Charley" Knepple.  Charley lost his life on April 28, 1997, while performing his probation officer duties in Allen County, Indiana.
In an effort to honor an outstanding professional and to promote further professionalism, POPAI selected a scholarship that would encourage continued education and advanced degrees for probation officers in our state.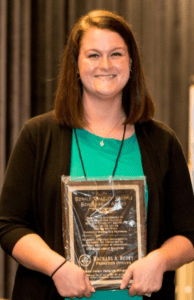 The 2017 recipient of the Donald "Charley" Knepple Scholarship is Rachael A. Scott of the Monroe County Probation Department.
Rachael is presently studying Public Administration with a concentration in Criminal Justice at Indiana State University. Rachael states that she will be using her degree to successfully apply advanced knowledge of human resource practices while also providing a foundation for grant writing and meeting departmental budgetary needs.  In the letters of support, Rachael's  supervisor stated that she has developed a keen balance between holding offenders accountable and assisting them to develop skills that will help them lower their risk for future involvement with the criminal justice system. The Monroe Circuit Court 9 Judge stated Rachael embraces evidence-based practices. She is open to new approaches and stretching beyond her normal skills. Rachael builds cooperative working relationships with her clients, the courts, other probation officers in the department and with community agencies in order to develop and deploy action plans to best address her client's needs.
POPAI congratulates Rachael A. Scott for this deserved recognition.