Do Cash Rewards For Crime Tips Work?
Read the original article source of this excerpt.
NPR on 09/17/2019 by Cheryl Corley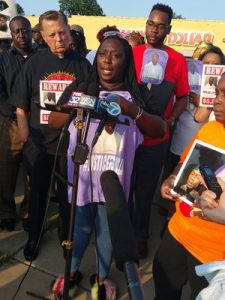 Remember those old "wanted" posters on TV Westerns? They offered rewards for handing over a person to law enforcement. In more recent times, rewards are less about bounty hunting and more about persuading people to provide information that can help solve a crime. It's an attempt to use money to overcome fear and apathy, and sometimes that can be difficult.
Recently, on a corner outside a Family Dollar store in Maywood, Ill., a suburb west of Chicago, a crowd of relatives, friends and activists gathered and held up pictures of 19-year-old Isiah Scott. They also distributed flyers offering a $5,000 reward for information leading to the arrest of the person who shot and killed Scott last March. He had just talked to his girlfriend on the phone about going to prom.
Scott's mother, Keisha Stansberry, says she raced to the parking lot of the Family Dollar after she saw her son strapped to a gurney on a live social media feed. Stansberry says she knows people saw what happened to her son. She says the suspected shooter threatened other kids, and they were afraid to go to school.
"It's shameful that I would have to put $5,000 out there for somebody to do what's right," said Stansberry. "That was the most horrific thing I've ever been through — to watch your child take his last breath on Facebook, on Snapchat. They got him on a gurney on Snapchat. Tubes down his throat."
Stansberry says lots of people helped her raise the reward money in an effort spearheaded by Michael Pfleger, an activist Chicago priest, and a support group of parents of murdered children. Pfleger says they've had some success — paying out rewards in nearly 30 Chicago cases after arrests were made and police verified the information was useful. He says in other instances, rewards haven't worked but it's important to continue to offer them.