Congratulations Valerie Runyon: POPAI 2021 Rookie Probation Officer of the Year
on 9/9/2021 by Bob Schuster, POPAI Awards Chair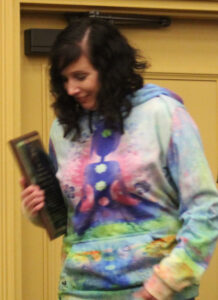 On Thursday, September 9, 2021 at the Probation Officers Professional Association of Indiana (POPAI) annual fall conference, Valerie Runyon, of Wells County Probation, was awarded the "Rookie Probation Officer of the Year Award".
This award was established in 2014 to recognize probation officers who, while at the beginning of their career, show the attitude, aptitude, and the desire to improve themselves and to develop into leaders among their peers.
Valerie graduated from Ball State University and began her career with the Indiana Department of Child Services. She then worked for a community mental health facility and eventually became a master's degree substance abuse therapist. She became a probation officer in August, 2020.
Chief Probation Officer Greg Werich states "Since her first day, she has accomplished the following: orientation and certification to be an Indiana Probation Officer, certification in IRAS/IYAS, completed IOCS Case Management training, Motivational Interviewing course, Carey Guides and BITS, Impaired Driving Assessment, and the Indiana Law Enforcement Academy pre-basic course including firearms qualification. Her high and moderate risk caseload is significantly close to that of the other officers with more longevity. She is actively conducting field visits with the field teams and is preparing for certification training in Moral Reconation Therapy to begin an in-house MRT program early next year." Greg also added that within weeks of Valerie being hired "her family suffered the death of a close loved one. Accomplishing all she has in a year of employment in a small probation department is impressive: having accomplished this during personal and pandemic hardship is amazing."
Probation Officer Vicki Cale states "I have over 30 years of experience as a probation officer but I often staff cases with Valerie because of the knowledge she has in addressing substance abuse. The Wells County Probation Department is very fortunate to have Valerie as an employee."
Congratulations Valerie!