Congratulations Allen Waller: POPAI 2021 Line Probation Officer of the Year
on 9/9/2021 by Bob Schuster, POPAI Awards Chair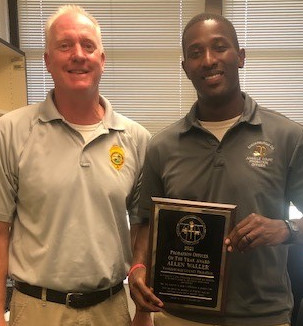 On Thursday, September 9, 2021 at the Probation Officers Professional Association of Indiana (POPAI) annual fall conference, Allen Waller, a probation officer with Vanderburgh Juvenile Probation, was presented the "Line Probation Officer of the Year Award."
This award was established in 2014 to recognize line probation officers who have performed their duties in an outstanding manner and/or made significant contributions to the field of probation at the local, regional or national level. The recipient may also have brought credit or honor to the profession of probation through participation or involvement in community activities or programs. This recognition is awarded to probation officers who are involved in the direct supervision of criminal defendants/juvenile offenders and/or other line probation officer duties such as conducting Presentence Investigations, Preliminary Inquiries, and Pre-dispositional Investigations.
Nominator Trent Barnett, Field Officer Supervisor, states "Allen has been a juvenile probation officer with Vanderburgh County since 2014." He is currently assigned to the intensive unit which is "tasked with the community supervision of the most high-risk delinquents in Vanderburgh County." Trent indicates that Allen goes above and beyond to make sure his clients' needs are met by "meeting with them in the home, school, or community as well as spending countless hours on the phone after work hours diffusing potential probation behavioral issues. His approach towards juveniles and families is compassionate yet strong and assertive when needed. He has also volunteered to speak at multiple not for profit agencies to help inspire at risk youth to make positive choices and decisions in their lives."
Judge Brett Niemeier of the Vanderburgh Superior Court states "Allen's true worth to my probation department is impossible to measure or adequately describe. It is the small things about Allen which set him apart. Allen is one of those unique individuals who can talk to anyone and become a trusted friend in just a few minutes. His attitude and smile are contagious. He truly changes kids' lives because of his caring nature and it isn't just kids on his caseload. He befriends kids in our schools and on our streets. He sets an example not only for those kids, but everyone around him. He makes us all better."
M. Rebecca Helm, Disposition Supervisor, states "Allen always has a smile on his face and a positive attitude in regards to his job. Allen never complains about the cases he is assigned and is always willing to help his co-workers and probationers. Allen truly cares about his probationers and their families and it shows by his dedication and commitment to his job."
Congratulations Allen!