Beam gets top probation honor
Read the original article source of this excerpt.
The News Sun on 4/16/2021 by Matt Getts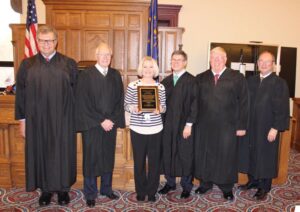 ALBION — She admitted it — Stacey Beam was expecting the worse when called to the Noble County Circuit Courtroom Thursday afternoon.
Instead, she was recognized as one of the best.
Noble County's chief probation officer, Beam was presented with the Order of Augustus, a statewide award given annually to the state's top probation officer.
Beam said she was "shocked" by the honor, and had come to the courtroom with some trepidation.
"It's never good when you get a call from the judges," Beam said.
Instead, she was greeted by her family, five current or former Noble County judges and her entire staff.