'A Matter of Life and Death' (Greenfield, IN)
Read the original article source of this excerpt.
Daily Reporter on February 24, 2017 by Caitlin VanOverberghe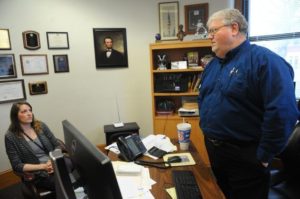 GREENFIELD — An initiative aimed at getting opiate addicts treatment as they serve time for low-level crimes is marking its one-year anniversary amid a plea for funding help from the county leaders who coordinate it.
Officials say the program — nicknamed "the heroin protocol" by those who manage it — has made a positive impact in the lives of the more than 20 people who have participated since last spring, each eager to start on the road to sobriety and leave their criminal histories firmly in their past. After pleading guilty to their crimes, offenders who enroll in the program are sent to serve their sentence in a halfway house rather than in traditional lockdown.
But funds that cover the first two weeks of an offenders' stay at a halfway house — an essential part of probation's treatment program, officials say — have dried up, and now local leaders are begging residents for donations to keep the program up and running.
Probation officer Amy Ikerd, who helped create the protocol and now oversees it, said she has only $500 in grant monies to fund the program through the fall. That's enough to place just two more people in halfway houses — but there are 11 people currently waiting in the Hancock County Jail to join the program.