2023 Order of Augustus Award Winner: Troy Hatfield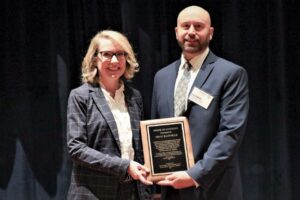 Troy Hatfield, Deputy Chief Probation Officer for the Monroe Circuit Court, received the 2023 Order of Augustus probation award at the annual statewide Justice Services conference in Indianapolis.
The Order of Augustus is an annual award presented by the Indiana Probation Officers Advisory Board to an Indiana probation officer whose commitment and personal dedication have exemplified the ideals and philosophy of John Augustus, the undisputed "father of probation" in America. The creed of John Augustus was "To raise the fallen, reform the criminal, and so far as my humble abilities would allow, to transform the abode of suffering and misery to the home of happiness."
The award was presented by Court of Appeals Judge Dana J. Kenworthy. Hatfield is the 30th Indiana probation officer to win this award since its inception in 1993 and the third probation officer from Monroe County to win the Order of Augustus award, joining Chief Probation Officer Linda Brady and retired Court Alcohol and Drug Program Director Susan Allen as recipients of this prestigious award.
Letters of support must accompany the nomination for this award. Troy's Chief, Linda Brady outlined his career starting in Owen County and finishes by saying "In addition to being a leader in probation locally, state-wide and now nationally, Troy is genuinely a nice humble person. I am honored to work with Troy every day and feel very fortunate that he continues to contribute to probation with our department on a daily basis."
Four Monroe Circuit Court Judges wrote in their letter "…He has done extensive research, data collection, and data analysis to support and explain various options that we have considered as we work together as a team to develop procedures to help individuals who are on probation to be successful. Troy's depth of knowledge in this area has been invaluable as the team has worked toward this goal."
One Chief Probation Officer said "Troy is an outstanding president of The Probation Officers Professional Association of Indiana. He puts in hours for POPAI and the field of probation with his work with JRAC, current and pending legislation and extra duties to help the POPAI Board and criminal justice professionals in Indiana. Troy never gives less than 100% in all he does. He is knowledgeable, dependable, and thorough. Troy is always professional and represents our field better than anyone I have met."
Another Chief Probation Officer said: "I've known Troy for over ten years and during that time I've become incredibly impressed with his level of dedication, commitment and professionalism in probation." and "He is the epitome of someone who is committed and personally dedicated to the profession of probation and in my opinion, completely deserving of the Order of Augustus Award."
A Pretrial Services Director wrote "Troy's unrelenting pursuit of justice and fairness for probationers, the community, and probation officers has been tireless. I can think of no one more deserving of an award that honors the Father of Probation; Troy Hatfield is a true reflection of what John Augustus represented."
We here at POPAI are very proud of Troy and wholeheartedly agree with those who nominated and supported him for this prestigious award.
Congratulations and well-earned, Troy!