Probation Officer Recognized in 2017 State of the Judiciary Speech
Read the original article source of this excerpt.
on January 19, 2017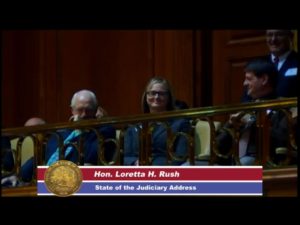 Miami County Probation Officer Mandy Mavrick was acknowledged by the Honorable Loretta Rush, Chief Justice of the Indiana Supreme Court, during her State of the Judiciary address to the Indiana Legislature on January 18, 2017.
Mandy is just one example of over 1,300 probation officers who work tirelessly every day to help protect our communities and change lives. Chief Justice Rush delivered an eloquent speech honoring all partners working within the court system in the state of Indiana. You can read her entire address here:
http://www.in.gov/judiciary/supreme/files/soj-2017.pdf
You can view the video of the 2017 State of the Judiciary HERE
Congratulations to Mandy and all of our Indiana probation officers for a job well done.
POPAI is proud of you!