Board votes to transition in-patient jail addiction program
Read the original article source of this excerpt.
News and Tribune on 6/24/2020 by Aprile Rickert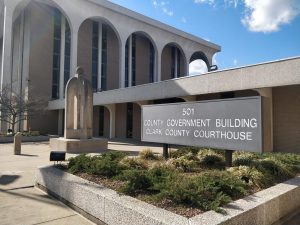 CLARK COUNTY — A Clark County board voted Tuesday to modify an in-patient addiction program for inmates to an outpatient-only program — a change some say is needed to protect against COVID-19 and others say will dampen the program's effects.
The Clark County Community Corrections board — which has representatives from multiple county departments and community programs — met Tuesday via ZOOM and approved to transition the Mental Health Addiction Treatment and Supervision Program (MAST) to an intensive, post-incarceration, outpatient program.
Clark County Circuit Court No. 4 Judge Vicki Carmichael made the motion to move the program out of the jail for now and look at getting it back in within the next year and a half depending on the pandemic.
The program has been in place for several years for men within the jail, and opened up for women less than a year ago. It has served as an in-patient treatment program for people with addiction issues, and many are mandated there by a judge in lieu of prison time or longer jail time.
The MAST program, and all programs that have people coming from outside to lead them, have been suspended in the Clark County jail since Feb. 28, to help mitigate the spread of COVID-19 within the facility.
Clark County Sheriff's Office Chief Deputy Scottie Maples said the jail has continued to have programming led internally, but can't afford to put the inmates at risk with outside contractors coming in until things change with the coronavirus.
"The jail is in no position right now or in the near future to introduce the MAST program back into our facility," he said during the meeting, adding that the jail will likely be among the last of the government agencies to loosen up COVID-19 restrictions.
"I know we're being overly cautious but we have to."
Maples added that as soon as it is safe to do so and based on guidance from health officials, "we fully anticipate to go back to as many programs as we can," he said.
Clark County Circuit No. 1 Judge Andrew Adams, one of two dissenting votes during the meeting, said he thinks the program will lose some of its effectiveness if it leaves the jail and goes to an outpatient-only model.
He said that's partly because people will have less incentive to show up for appointments if they're already out of jail, and partly because it will limit options for people with low or no income or health insurance to get in-patient treatment.
"I just think we're rushing the transition," he said before the board voted. "I think we worked too hard for too many years to get a program in the jail."
Adams said he refers people to the be evaluated for the program three to four times a week, including defendants who request it themselves. At times he said it may take several weeks to get in based on space, but said that they've worked to expedite the process once a spot has opened up.
He estimated that about 50 to 60 people pass through the program each year.
He added that changes to the program will also affect participants in the Veterans Court of Southern Indiana and the Clark County Addiction Treatment and Support program. The latter was started by Adams last year as a way to help people with lower level crimes and addiction or mental health issues break the cycle of incarceration.
The program's first phase requires participants be in a 90-day in-patient program before transitioning to other phases, which the MAST program was able to provide.
"Now it's going to be left to us to try to … get them insurance, get them qualified and go from there," he said. "I'm very disappointed, but it's out of my control."
A request for information from the county stipulating exactly how the program will work and when it will transition was not immediately available.