A gift in tough times: Juvenile probation departments deliver for young clients, families
Read the original article source of this excerpt.
The Indiana Lawyer on 05/27/2020 by Marilyn Odendahl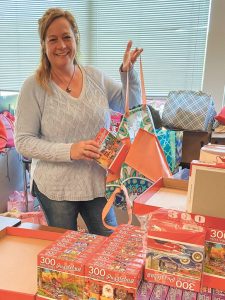 Chief probation officer Christine Kerl and her team from the juvenile division of the Marion Superior Court Probation Department fanned out to Dollar Tree stores across Indianapolis earlier this spring and loaded their carts with items for families to enjoy together during these trying and tiring times.
The probation officers bought boxes of spaghetti, jars of tomato sauce and rolls of refrigerated cookie dough. Back at the office, they unloaded and assembled care packages, each with the fixings for a dinner and dessert. They also tucked in a jigsaw puzzle or checkers or a backgammon game, and a little candy.
More than a meal, the care packages were thoughtfully designed to create some happy family memories. Children could gather in the kitchen to help cook the meal and bake the treats. Afterward, everyone could work together to complete the puzzle or test their skills in a board game.
Once the packages were ready, juvenile probation officers piled them into their cars and made the rounds, personally delivering the bags to the juveniles under supervision earlier this month. The officers have been phoning and teleconferencing with their youngsters throughout the COVID-19 crisis, but getting the chance to get out and meet in-person with their clients and families was a special treat.