Victory Field, Indians organization earns sensory certification
Read the original article source of this excerpt.
WRTV on 7/25/2021 by Michelle Kaufman
INDIANAPOLIS — Victory Field, home of the Indianapolis Indians, now has two new ways to serve families with sensory needs after receiving sensory certification through a partnership with KultureCity, a nonprofit.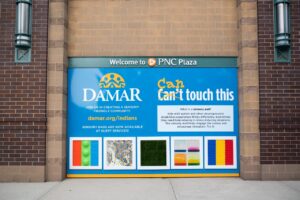 Cheyne Reiter, Indians director of communications, says the recently installed sensory wall provides a place for families to get away from the loud noises around home plate.
"It can be a lot. Not just the crowd noise but the music, the ambiance, the PA announcements, everything that goes on in-game in addition to what's taking place on field can just be overwhelming at times," Reiter said. "If you want to break away and get away from the noise, you can head out to the PNC Plaza here in center field and just kinda get away from the game for a little bit."