Pretrial, Probation, and Parole Supervision Week (PPPS Week) July 15 – 21
Read the original article source of this excerpt.
APPA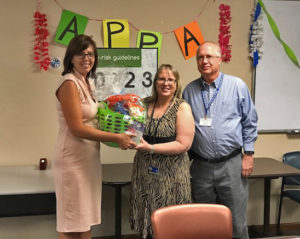 The American Probation and Parole Association (APPA) recognizes the nearly 100,000-strong members of the community corrections/supervision workforce for your dedication to and influence on the justice system. Each year during Pretrial, Probation, and Parole Supervision Week (PPPS Week), we make an extra effort to acknowledge your compassion, strength, and determination. You make a difference, even though over the past two decades, caseloads have grown exponentially, exceeding five million people at their peak; and resources are still minimal.
There does appear to be a great deal of attention and focus on our industry, and there is a move afoot to shift the way others – policymakers and the public alike – think about the best ways to enhance public safety and improve justice system outcomes.
Public safety is important to everyone! As an industry, we must be more visible so people will recognize the significant role pretrial, probation, and parole practitioners play to enhance the safety of our communities. APPA is working to ensure all our external stakeholders are aware of the valuable contribution our industry makes in this area. We hope you are also ensuring the voice of our industry is heard!
For far too long, community corrections/supervision professionals have been relatively quiet, fearing we would do more harm than good to our work if we spoke about our occupation externally. We now know it is our responsibility to speak up about what is needed or required to make progress that will make a difference for every American.
As noted in APPA's Call for Workshops for the 43rd Annual Training Institute which will be held in Philadelphia, July 29 – August 1, the 2018 PPPS Week theme, "Restoring Trust and Creating Hope" speaks to how communities are experiencing emotionally turbulent times where trust and hope have been replaced with fear and polarization. It implores justice system professionals to engage with their local communities around challenging issues such as victimization, racial and ethnic disparities, and gender inequalities. During PPPS Week, you are urged to celebrate the amazing work you are doing to support efforts to make our neighborhoods whole. After the celebrations, I implore you to continue developing and strengthening community collaborative strategies and programs that offer solutions to societal issues. We want you to speak up and speak out about our successes.
You are urged to reflect on your daily charge to play a major role in the reintegration of individuals released back into society. Think outside the box about ways to use all available resources to help individuals under supervision as well as the community. There is so much more we can do to change lives and make a difference. Find a platform to let everybody know of your work. For example, at APPA, we believe individuals should be able to vote after the completion of their sentences. APPA recently filed an amicus brief and joined with other organizations in their fight to secure the right to vote in Louisiana for individuals on probation and parole. We believe that providing human beings the right to vote gives them an important stake in their communities, treats them as full-fledged members of our society, and allows them to teach their children the importance of voting. Disenfranchising any citizen does not serve any legitimate government interests.
What can you do to restore trust and create hope to make our communities healthier? Remember, every success, at some level, equates to a reduction in recidivism which enhances public safety. Get in there, do the work and accept the credit for your contribution to restoring trust and creating hope.
During PPPS Week, we would love to hear about both your celebrations and your work to reinforce effective frameworks/models for changing lives and community building. You know what is at stake, let's all ensure others do as well.
It is an honor to watch the progress that is being made across jurisdictions and to acknowledge your commitment in the name of public safety! Thank you for the time, energy, earnestness, perseverance and competencies you bring to a crucial undertaking.
On behalf of the staff of APPA and its Board of Directors, thank you. APPA is here today and tomorrow. Let us be a resource to you as you stand up to promote community corrections/supervision done the right way – working to significantly reduce the footprint of probation and parole and improve outcomes and public safety. Be a force for positive change!