Meet Dr. Earl Suttle: Fall Conference Keynote Speaker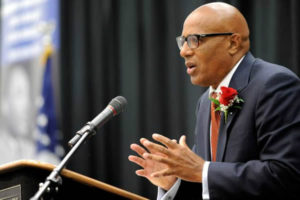 "Dr. Earl gave us treasures and nuggets that we have immediately implemented, with respect to diversity recruitment and retention, and leadership development."
— Alfred Dowe, Asst. Director of Recruitment and Community Outreach
University of Arkansas Graduate School and International Education
"Many, many thanks for your refreshing insights and positive approaches to coping with change during these challenging times of organizational downsizing."
— Lili Ingram, MSW. Dept. of the Army
"Earl is one of the best presenters I've had the opportunity to hear on the subject of stress."
— Leonard Burns, Lockwood Greene Engineering, Inc.
"Earl, this is our Ninth Annual Conference and the numerous favorable comments from the staff indicate this was the best presentation ever."
— Tom Charron, Cobb County District Attorney
"Your ability to making others laugh is a precious gift. Thank you for making people's loads lighter."
— Judy Wilson, University of Georgia Conference Coordinator
Dr. Earl Suttle is the Founder and Chairman of Leadership Success International, LLC, an international training and consulting company based in Atlanta, Georgia. Dr. Suttle began his career as an elementary school teacher and guidance counselor and later earned his doctorate in Addiction Studies. He spent many years working in the healthcare profession, including positions in several addiction treatment programs prior to starting his own consulting business. Dr. Suttle is a dynamic and entertaining keynote speaker and best-selling author. His presentations will re-energize you and help you to focus on being your best self.