Indiana Black Caucus Unveils Expansive Justice Reform Plan
Read the original article source of this excerpt.
Indiana Public Media on 08/13/2020 by Brandon Smith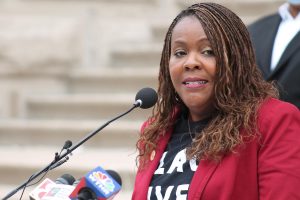 The Indiana Black Legislative Caucus unveiled an expansive justice reform plan Thursday that reimagines policing across the state.
The caucus hopes to advance the agenda in the next legislative session.
It's divided into five pillars: save lives, hold accountable, empower communities, change culture and improve transparency. There are more than three dozen proposed actions, including bans on chokeholds, racial profiling and no-knock warrants; automatic external investigations when police shoot unarmed or retreating civilians; and requiring public hearings before police union contracts are renewed.