IDOC-Out Donates Hand-Made Quilt to IYG
Read the original article source of this excerpt.
IDOC on 8/31/2021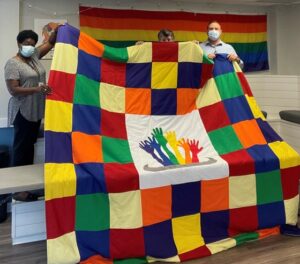 Indianapolis, IN – A hand-made quilt can provide a feeling of caring and comfort almost as if you're getting a hug from a loved one. Incarcerated individuals at the Indiana Women's Prison (IWP) wanted to provide that care and comfort to the Indiana Youth Group (IYG). The incarcerated individuals hand-stitched a king-sized quilt featuring the IYG logo and colors. The quilt serves as a token of appreciation for all IYG does for the LGBTQ+ community in Indiana. 
IDOC-Out Founder and Leader Eric Vanatti alongside IDOC Executive Director Kathy Griffin presented the quilt to IYG on August 12, 2021.  IDOC-Out organized the donation.   
"IYG does so many wonderful things for the community.  It is an organization I wish I had available to me when growing up," commented Eric Vanatti, founder of IDOC-Out. "IYG can assist our staff who may have children who are LGBTQ+ and LGBTQ+ youth who are being released that need resources."