Fall Conference: Attendees
The POPAI Board is excited to announce that registration is open for the popular Fall Conference at the French Lick Resort in French Lick, Indiana.
Gather with other Community Supervision Professionals starting Wednesday September 20 at 11 am.
The fantastic hotel and conference facility provides the perfect setting for community supervision professionals to improve themselves in a variety of ways, from the task-specific to the physical being, to the emotional self. This conference is for anyone in the field of community supervision.
The goal of the conference is to provide another opportunity to assist you in obtaining the required 12 hours of annual continuing education required for Probation Officers in the State of Indiana.
Attendees will be given the opportunity to gain probation-specific knowledge on techniques, services, and technology of the future being utilized in Indiana today. Opportunities will also be available for attendees to retreat, share ideas, participate in some outdoor activities, and enjoy an excellent training and networking environment.
Agenda
We pursued topics that can offer a valuable mix of popular subjects. Find the agenda details here.
For those who need it, download a pdf of the agenda by clicking here. Many members request this document to turn in to their county for requests to attend. Please note this is subject to change and a detailed actual agenda will be available to all attendees at and after the conference.
Swag
Exclusive to this 2023 Conference the Board has approved a choice of one upscale swag for each paid attendee. Both items will be blue with the POPAI Logo in white. We will only order the number of items identified through the registration process.  Any registrations before September 1st are guaranteed your choice of either a cooler or golf umbrella with POPAI branding.
This Koozie® cooler tote can do it all! Capable of holding 20 cans, this cooler is perfect for tailgates, get-togethers and more. Integrated bottle opener allows for easy beverage opening.
OR

This ShedRain® umbrella is made with a 68″ polyester canopy with a vented design for better wind resistance. Designed with a molded four-finger grip handle and a color-alternating design for the traditional golf umbrella look.
Register
Take advantage of Early Bird Pricing and secure your item of POPAI Swag before August 18. Department Chiefs and Administrators can register teams of up to 10 at a time.
Click Here to open the Attendee Registration Page
As usual, you'll be able to include your 2023 membership with conference attendance. If you're already a 2023 member and wish to apply for 2024 membership you can do that now too. Please see this page at your convenience to learn how departments paying the year in advance works if an attendee leaves the department before January 1.
You may pay using a credit card online during this process or enter and apply the discount code "invoice" on the first page of your registration to receive an invoice and avoid credit card processing fees.
Here's an image, star added for clarity: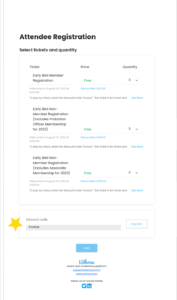 And, zoomed in:
Remember, type invoice and click the button to apply it.
Hotel
Hotel All rooms the resort allowed us at special rates are booked. If a room is cancelled it will reappear on our hotel booking page or you can try calling directly to let them know you are with POPAI to see if there's a special rate for West Baden (888) 976-3617.
POPAI Gear
POPAI Gear will be available for pre order until Thursday August 24, 2023. A limited number of sizes, styles, and colors will be available on site but you can capture some unique and professional POPAI Gear now.
Visit the online store, place your order, pay, then be ready to pick up in French Lick.
Questions or concerns should be directed to either Anthony Training@Gopopai.org or Karen ContactUsatPOPAI@gmail.com.